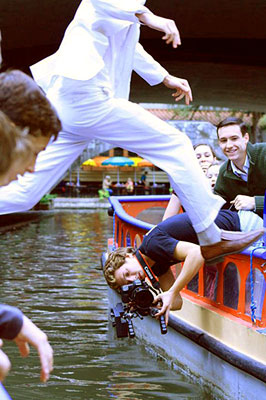 Definitely one of the trickiest scenes to get coordinated logistically was the action scene on the San Antonio River Walk. Achieving this meant getting permission from the San Antonio Film Commission, the San Antonio Police Department, and Rio San Antonio Cruises—not to mention arranging for all the crew members and extras to be on set.
Even so, the Lord blessed our efforts, and things finally came together to make the shoot happen . . . even if there were a few casualties along the way.
After a long many weeks of wear and tear on numerous sets in production, our clapboard gave up the ghost on one of the final takes, breaking in half and plummeting itself into the river never to be seen again. Yet all other property and all humans remained without harm despite the tricky nature of the some of the stunts, and the shots turned out well. An exhausting but fulfilling day.